Intervention is now driving Syria's descent into darkness
Western and Gulf regime support for rebel fighters isn't bringing freedom to Syrians but escalating sectarian conflict and war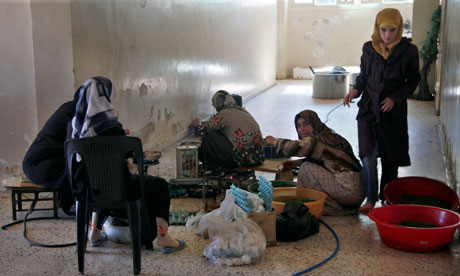 The destruction of Syria is now in full flow. What began as a popular uprising 17 months ago is now an all-out civil war fuelled by regional and global powers that threatens to engulf the entire Middle East. As the battle for the ancient city of Aleppo grinds on and atrocities on both sides multiply, the danger of the conflict spilling over Syria's borders is growing.
Driving the escalation of the conflict has been western and regional intervention. This isn't Iraq, of course, with hundreds of thousands of troops on the ground, or Libya, with a devastating bombardment from the air. But the sharp increase in arms supplies, funding and technical support from the US, Saudi Arabia, Qatar, Turkey and others in recent months has dramatically boosted the rebels' fortunes, as well as the death toll.
Barack Obama has so far resisted the demands of liberal hawks and neoconservatives for a direct military assault. Instead he's authorised more traditional forms of CIA covert military backing, Nicaragua-style, for the Syrian rebels.
For Syrians who want dignity and democracy in a free country, the rapidly mushrooming dependence of their uprising on foreign support is a disaster – even more than was the case in Libya. After all, it is now officials of the dictatorial and sectarian Saudi regime who choose which armed groups get funding, not Syrians. And it is intelligence officials from the US, which sponsors the Israeli occupation of Syrian territory and dictatorships across the region, who decide which rebel units get weapons.
Opposition activists insist they will maintain their autonomy, based on deep-rooted popular support. But the dynamic of external backing clearly risks turning groups dependent on it into instruments of their sponsors, rather than the people they seek to represent. Gulf funding has already sharpened religious sectarianism in the rebel camp, while reports of public alienation from rebel fighters in Aleppo this week testifies to the dangers of armed groups relying on outsiders instead of their own communities.
In reality, the Syrian crisis always had multiple dimensions that crossed the region's most sensitive fault lines. It was from the start a genuine uprising against an authoritarian regime. But it has also increasingly morphed into a sectarian conflict, in which the Alawite-dominated Assad government has been able to portray itself as the protector of minorities – Alawite, Christian and Kurdish – against a Sunni-dominated opposition tide.
The intervention of Saudi Arabia and other Gulf autocracies, which have tried to protect themselves from the wider Arab upheaval by playing the anti-Shia card, is transparently aimed at a sectarian, not a democratic, outcome. But it is the third dimension – Syria's alliance with Tehran and Lebanon's Shia resistance movement, Hezbollah – that has turned the Syrian struggle into a proxy war against Iran and a global conflict.
That could now happen regardless of how long Assad and his regime survive. But intervention in Syria is prolonging the conflict, rather than delivering a knockout blow. Only pressure for a negotiated settlement, which the west and its friends have so strenuously blocked, can now give Syrians the chance to determine their own future – and halt the country's descent into darkness.